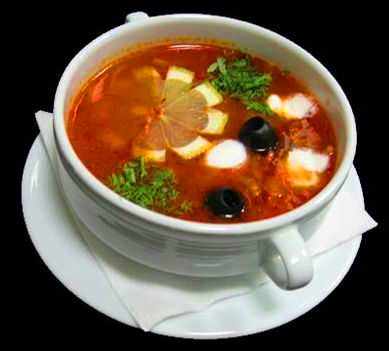 Salsola represents the first meal on saturated broth obligatory presence of an acid bases, various spices and additives of the products of the type, to which the solyanka. There are three types of thistles: meat, fish and mushroom. A characteristic feature is that halophytes, because it uses a variety of meats or fish, as well as vegetables and mushrooms in accordance with the views of halophytes. In-bag of the liquid portion is relatively small, This thick dish, water or broth thus be topped up accordingly. Try to cook an amazing hodgepodge in multivarka of our recipes.
1. Solyanka meat at home in multivarka
To prepare Solyanka meat at home, we need to multivarka:
400 g beef, 400 g of various meat products (ham, frankfurters, boiled tongue and pork kidneys, chicken's meat, cold boiled pork, boiled and smoked sausages, etc.), 3 potatoes, by 2 PC. carrots and onions, 3 st.l. tomato paste, 2 tomatoes,
4 PC. pickles, 3 st.l. vegetable oil for frying, lemon, olives, salt, greenery, pepper, citric acid taste.
How to cook meat hodgepodge team at home in multivarka:
1. Boil broth 400 g beef Prescription "How to cook soup in multivarka?»
2. Meat and broth put in another bowl, and after cooling boiled meat cut into strips.
3. Prepare vegetables, wash and clean carrots and onions, then chopped onion, potatoes, diced tomatoes and cucumbers, carrot sticks or her three on a grater.
4. Cut all meat products into cubes or strips are not large.
5. Multivarku put on the regime "baking / frying" on 30 minutes, fill with oil and place in a bowl of carrots and onions frying, then add the tomatoes and cucumbers, tormented for a few minutes.
6. Add to the bowl of tomato paste and a little broth, tusim 5 minutes.
7. Dolivaem broth, lay the meat and meat products, potatoes, solim, Top up with brine, to taste add favorite spices, citric acid and set "Quenching" mode 1 time. for 5 minutes to readiness can be set as desired laurel. The hodgepodge when filing add chopped olives, circle of lemon, sour cream and herbs.
2. Solyanka fish in multivarka
To cook fish in a hodgepodge multivarka we need:
500 g fresh fish fillet any, 10 boiled crayfish, 250 g salmon fresh (sturgeon or salmon) and 250 g salt chum (trout, salmon), 3 pickles, large carrot, 3 tomatoes, 2 bulbs, 1 Article. chopped pickled mushrooms, vegetable oil, pepper, salt, dill and parsley, olives, cream, 2 l of water and 1 Article. brine, citric acid taste, lemon.
How to cook fish in a hodgepodge multivarka:
1. prepare vegetables, Wash and chop: carrot sticks, onion and cucumber into small cubes.
2. Prepare the fish and crayfish: fish cut in small cubes or cubes, removing all bones, crayfish clean and cut the flesh.
3. Set "Baking" mode 30 minutes and fried in vegetable oil, onion, carrot, cucumbers, tomatoes, a little put out, if necessary, add water.
4. Put in a bowl of prepared fish and crayfish, pickled mushrooms, pour hot water, add salt and spices to taste, pour brine.
5. Set "Quenching" mode 40-50 minutes. Before the end of the bowl to put olives.
When serving sprinkle with herbs, add a slice of lemon and sour cream.