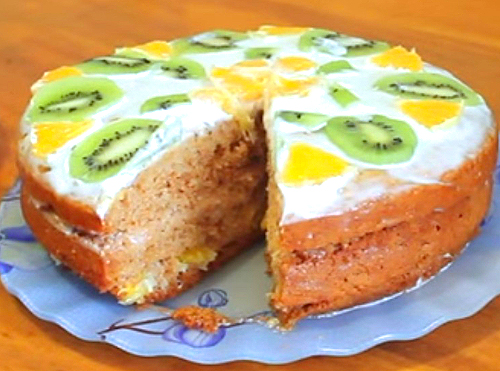 From the usual honey cake, cooked in the oven, this cake, baked using Multivarki, distinguished by a special softness, splendor, pleasant note in this recipe is also a layer of fruit. Cook it much easier, because they do not have to bother with separate baking cakes, as a single layer of baked, which is then cut into pieces.
Cake "Honey pie" with fruit in multivarka
To cook the cake "Honey pie" with fruit in multivarka, we will need:
0,5 Article. Sahara, 3 eggs, 3 st.l. honey, 1 ch.l. baking powder, 0,5 ch.l. soda, 2 Article. flour.
cream: 300 g 20% sour cream, 0,5 Article. Sahara (much), 1 orange for the layer and decorations.
How to cook the cake "Honey pie" with fruit in multivarka?
1. Sift flour and add the baking powder and baking soda. honey, if it is sugar, It should be slightly melted to a liquid state.
2. Mix the eggs with the sugar and beat them with a mixer at low speed to increase in volume 2-3 fold. continuing to whisk, add honey.
3. Flour to egg weight honey added gradually, stirring well.
4. Grease with butter cup and sides and pour the dough, flatten the surface.
5. Bake honey cake in the "Baking" mode 1 time, then 15 minutes giving cool with the cover closed, follow, to "heating" mode is disabled. Honey cake is taken out of the container by means of the vapor, inserting it into multivarku, and then gently turning him bowl.
6. For the preparation of sour cream whip cream with sugar using a mixer and place in refrigerator to cool, until the cake is baked.
7. Ready cake cut into three layers with a knife and thread, then coat with their sour cream. As a layer, you can add nuts, or orange, Kiwi, strawberries or other fruits or berries to your discretion. Decorate the cake on top of cream and fruit.
8. Put the finished cake in the fridge for 1 hour for impregnation.
How to cook the cake "Honey pie" with fruit in multivarka recipe videos: