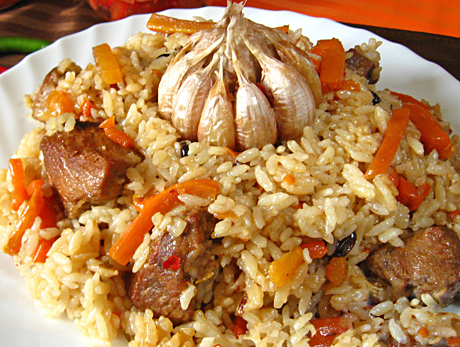 often say, that the pilaf in multivarka is not very similar to the classic, but this is absolutely not the case. Try to cook pilaf our recipe, and make sure, pilaf that does not necessarily have a cast-iron cauldron, multivarka it successfully replaces. Best meat for the pilaf is considered lamb, but today any meat used, bird, even seafood, and vegetarian pilaf can be cooked with vegetables.
Pilaf with meat multivarka
To cook pilaf with meat multivarka we need:
400 d empty space, 3 bulbs, 3 carrots, 2 jiggers long grain rice (300 g), head of garlic, vegetable oil 150 g, salt, spice (Zira, barberry, turmeric, pepper) – 2 ch.l.
How to cook risotto with meat multivarka?
1. My meat and cut into medium-sized cubes. Onions and carrots clean, cut into strips. Rice was well washed.
2. Multivarku set mode "Baking / Roasting" on 40 minutes. Pour into a bowl of butter, Warms, add the meat and fry 30 minutes. add the onion, then carrots, we continue to fry, lightly season with salt, add spices, mix.
3. lay figure, carefully add through skimmer 3 multistakana hot water, add some salt water and are laying in Fig purified from the upper head of garlic husk. Set the mode of "pilaf".
4. Serve risotto with herbs and fresh vegetables.
How to cook risotto with pork in multivarka recipe videos: