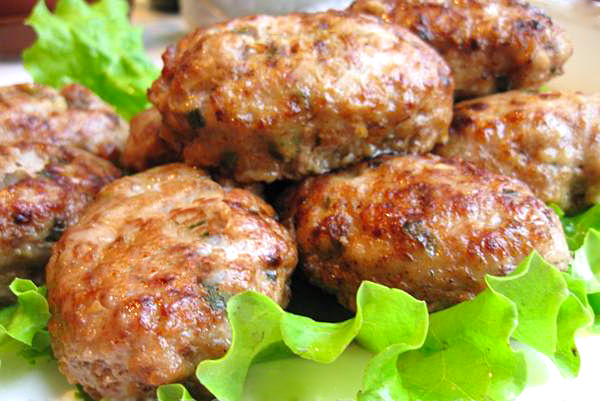 Homemade burgers at first glance may seem ordinary everyday dish. But to date, there are plenty of great recipes for meatballs, that will make them even the main dish festive table. After all, any meat bird can be used for cutlets, a fish, vegetables, cereals, them serves a variety of sauces, garnishes. Yes, and they are prepared in different ways: using frying, baking, steam. So dream with recipes on cutlets can be infinitely. Very tasty, in a special tender cutlets are obtained multivarka.
Delicious homemade burgers in multivarka
To prepare homemade burgers in multivarka we need:
minced meat (pig-beef) – 1 kg (can replace part of the meat minced chicken), egg - 2 PC., dried up white bread without crusts - 200 g, bow - 1 PC., potatoes - 1 PC., milk, salt, pepper, garlic 2-3 cloves, greenery, spice, flour or crumbs for breading.
How to cook delicious homemade cakes in multivarka?
White bread soaked in warm milk on 5 minutes. Potatoes and onions cleanse, my, rub on a fine grater or a well ground in a blender. Add the soaked bread, mashed garlic, Spice salt and chopped fresh herbs, egg yolks (sometimes add a couple of spoonfuls of mayonnaise for succulence).
The resulting mixture is attachable to stuffing mix and very good, then pulling away the minutes 10-15, then chops will air.
Form the patties and paniruem in flour or breadcrumbs.
Multivarku set mode "Baking" on 40 minutes, pour vegetable oil and begin to fry cutlets, When it warms up. Initially, fry with the lid open until the crust (minutes 5), then close the lid on 5 minutes, turn over to the other side and fry more 5 minutes with the lid closed.
fry parties, ready to take out the cutlets on a platter. In bowl (if necessary) dolivaem oil, fry the second batch.
after roasting, All burgers again put in multivarku, dolivaem 0,5 st.goryachey water and put the mode "Stewing" on 20 minutes. Many simply fried cutlets without additional quenching, but it gives the extinguishing cutlets special tenderness.
How to cook delicious burgers in multivarka recipe videos: