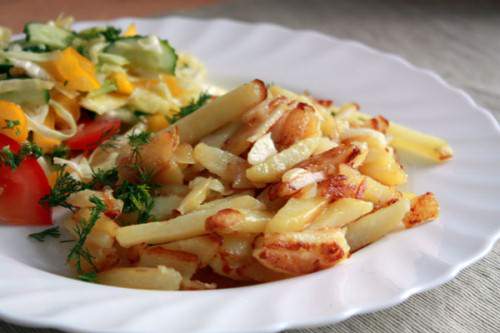 Taste of chips depends on the grade, as well as from used frying oil. For frying potatoes should be taken not too razvaristy, because it quickly becomes soft, no time to fry to a crisp. Such better to fry potatoes with the cover open, not closing it during cooking. conversely, varieties with a low content of starch, should begin to fry under the lid open, and after dozharivat, closing the, for soft midway.

Potatoes fried in multivarka
To cook the potatoes fried in multivarka, we will need:
potatoes - 900 g, bow - 1-2 PC., vegetable oil, salt, seasoning for potatoes - to taste, greenery.
How to cook potatoes fried in multivarka?
1. Clean potatoes, my, obsushivayut and cut, then again obsushivayut with a napkin from the liberated juice.
2. Multivarku put in "Roasting / Baking" mode 30 minutes, pour vegetable oil and wait, while it is well warmed up, lay the potatoes in a bowl.
3. Cooking with the cover open 10-15 minutes, If potatoes are not too razvaristy, through 7 min mix.
4. Lay the onion and continue to cook with the lid closed until the end of the program, at the end of 5 minutes solim, stir and sprinkle with spices to taste, sometimes add chopped garlic and fresh herbs. Be sure to monitor the degree of cooked potatoes, if it is soft, the mode is deactivated before, and if the potatoes damp, continue cooking.
5. When serving sprinkle with fresh herbs.
Cooking Tips:
1. Most good potatoes for frying - medium hardness, with pink-skinned, not quickly fall apart and keep the shape.
2. Fry possible on vegetable oils and animal fat mixture, crust though most get crispy and tasty. Aromatic potatoes obtained by frying on a mixture of vegetable oil and melted.
3. Cutting perform the same mean value, too thin slices or straws will soon be burnt.
4. Oil for frying potatoes are heated thoroughly before putting some.
5. Salt should be at the very end, otherwise raspolzetsya and potatoes will absorb a lot of fat.
6. A layer of potatoes should not be more than 5 cm, so prozharka is uniform.
7. Do not stir the potatoes often, let it fry to a crisp, try to turn off the edge, raising the entire layer.
8. If sliced ​​potatoes immersed in hot water before frying, and then dry it immediately, the crust would fry faster.
9. Potatoes can be fried with mushrooms, meat products, pour egg.
How to cook roasted potatoes in the slow cooker video recipe: