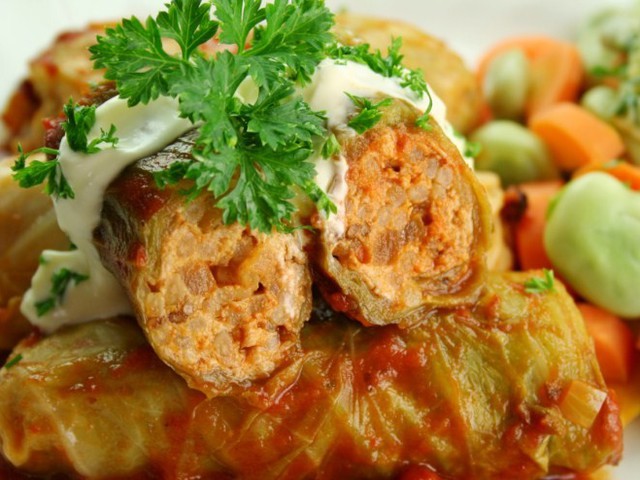 How many centuries ago and who exactly invented to wrap the stuffing in the cabbage leaves, it is not known. Many believe China is the birthplace of dishes, in some versions - it is Armenia and Turkey, although instead of cabbage leaves it applied grape leaves, and stuffing served minced lamb. Greeks lead in proof of their superiority comedy of Aristophanes, where one of the characters even 400's of BC. He demanded to bring him cabbage leaves with meat.
In multivarka stuffed obtained especially gentle, completely soaking sauce, but they do not digest and retain the shape. Try to cook – see for yourself!
1. Stuffed cabbage at home in multivarka
To cook cabbage rolls at home, we need to multivarka:
1 Average cabbage, 400 g minced, 1 st.risa, 3 bulbs, 2 PC. carrots, 2-3 PC. potato, tomato paste - 2-3 st.l., tomatoes - 300 g, cream- 200 g, greenery, salt, pepper, spices to taste, garlic, vegetable oil and butter for frying, 2 eggs.
How to cook cabbage rolls at home in multivarka:
Of cabbages remove the stalk and put it in a bowl for blanching Multivarki. We use the "Cooking" mode 15-30 minutes (depending on the cabbage), do not forget to pour water. After blanching cabbage immediately put under cold water. Carefully dismantle the cabbage on a separate sheet, cutting off the rough parts.
Prepare for pouring sauce. Fried in vegetable oil and chopped carrot chopped diced onion in "Soup / Steaming" mode 20 minutes, add tomato paste, water or broth, then chopped fresh or canned tomatoes, sour cream, garlic, salt and spices (pepper, sugar, Dried Dill et al.). Withstands up to the end of the regime under the cover, then pour the sauce in another bowl.
Rice well washed and pour boiling water for a quarter of an hour. Onions finely chop and add to the stuffing, We are laying the prepared pic, solim, add spices to taste, Optionally, add the garlic and herbs, All mix well.
Prepared stuffing wrap, forming stuffed. Cabbage rolls dipped in beaten egg (2 eggs and 3 st.l. water) and fried in butter by 3 minutes each side. You can fry without eggs.
In a bowl Multivarki laid stuffed, paving between the two diced potatoes, and fill to top of sauce. Put "Quenching" mode or "soup" on 40-60 minutes (It depends on the hardness of meat). Serve with sauce and greens, you can add sour cream.
2. Vegetarian stuffed cabbage with rice and mushrooms in multivarka
To prepare vegetarian stuffed with rice and mushrooms in multivarka we need:
1 Average cabbage, 0,5 kg mushrooms, or other fungi (can take 300 g dry, pre-soak), bow - 2 PC., carrot - 2 PC., Figure - 250 g, tomato paste - 2-3 Article. l., frying oil - 100 g, salt, spice, garlic, greenery.
How to cook vegetarian stuffed with rice and mushrooms in multivarka:
Prepare vegetables and mushrooms: my, clean, cut into, thoroughly washed rice, cabbage completely remove the stalk.
The bowl Multivarki laid down hole cabbage, We pour the boiled water and put in the "soup / Steaming" on 15-30 minutes, depending upon the amount of head. after boiling, put under cold water, to cool, understandable to listyya.
In a bowl pour the oil for frying, set mode "Baking / Roasting", put the chopped onions and carrots, lightly fry until browned. Half zazharki deposited in another bowl, and in a bowl add the sliced ​​mushrooms, roza_ker 5-7 minutes, add spices and garlic (If you are using dried mushrooms, they boil after pre-soaking). Figure prepared by laying in a bowl, Top up with water, to on 2-3 see Figure overlaid, solim, Continue cooking the remaining time, rice should fully absorb the water, then all mix well.
Started production of cabbage. The resulting stuffing spread on cabbage leaves and form a customary method.
Prepare fill, using a portion of the deferred zazharki, We lay it in a frying pan, add tomato paste, fill with water and boil 10 minutes, add salt and spices to taste.
Put the prepared cabbage rolls in a bowl Multivarki, pour tomato sauce (adding water if necessary) and set up "Braising" mode 40 minutes. When applying, do not forget about the greens and sour cream.
3. lazy cabbage rolls
To prepare lazy cabbage rolls in multivarka we need:
cabbage - 500 g, beef or chicken mince - 400 g, boiled rice - 200 g, bow - 2 PC. average, sour cream and tomato paste on 250 g, crumbs for breading, oil for frying, salt, spice.
How to cook the lazy cabbage rolls in multivarka?
1. Cabbage washed and cut into small pieces and pour boiling water on 5-10 minutes. Then wring excess water from cabbage.
2. Onions cleanse and chopped. Mix thoroughly minced meat, washed with boiled rice, cabbage and onions, salt and pepper, herbs may be added if desired.
3. From the resulting mince forming a lazy stuffed cutlets and collapses them into crumbs or flour.
4. Heat the oil in the bowl at Multivarki mode "Baking / Roasting" and stuffed fried until golden brown on each side.
5. Fill lazy cabbage rolls with a mixture of sour cream and tomato paste, to be topped, you can add water, as well as the carrot and bell pepper shredded into strips, solim, pepper and put on "Quenching" mode 40-60 minutes. Pour sauce or sour cream when applying, sprinkle with herbs.
Tips housewife:
For the filling stuffed cabbage is used not only minced meat, poultry, offal, combined with different kinds of groats (Pšeno, hrechkoy, rice), but also mushrooms, potatoes, vegetables, fish, Seafood with cereal, used cheese, meat. Each owner is given ample room for creativity in inventing original toppings.
cabbage wrapping methods are different - most often it is the envelope, but there are cabbage rolls, where one end is tucked, or both ends of the open.
Used for pouring tomato juice during fire, broths, dry white wine, cream based sauce, etc..
Kale cabbage selected for preparation with loose leaves, because the dense enough it is difficult to separate.
The leaves of the cabbage are choosing green, and not white, shaped head should be chosen slightly flattened, not round, with it will be much easier to work. You can use the Peking cabbage or Savoy, interesting and unusual look stuffed red cabbage.