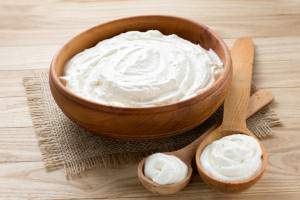 Not a secret, that cream shops often leaves much to be desired both in terms of quality, and its taste characteristics. To artificially increase the fat content, manufacturers often add it far from harmless vegetable fats based on palm oil, various preservatives. However, if you have multivarka, then cook at home sour cream will have no difficulty. To prepare the cream will need high-quality products from reliable manufacturers. They should be without the addition of vegetable fats and artificial preservatives. Further, for fermentation can be used has its own sour cream, the cooking time can be reduced to 6-8 hours, such a cream will soon leaven, follow, not to superoxide.
Home cream in multivarka
To prepare sour cream in multivarka, we will need:
500 ml. fat pasteurized cream, cream - 2 ch.l.
How to cook the sour cream in multivarka?
1. At the bottom of the bowl Multivarki route the silicone mat and place the palm banks, in which to prepare the cream (you can do without them). The jar and the lid for cream rinse and scald with boiling water. If you use cream from the market, be sure to boil and cool them to 40aboutC prior to use for cream.
2. Pour into a bowl of water, so that it reaches the height of the stand.
3. Cream room temperature, pour into a jar, there too, add sour cream, stir well, jar, close the lid and put in multivarku.
4. Install mode "Yogurt" in 10 hours, if there is a "mode Control", the set temperature 40aboutWITH. After the end of the program, Thoroughly mix the contents of the jars and put it in the refrigerator.
5. After a few hours of thick and delicious homemade sour cream will be ready.
Cooking Tips:
It can be used to ferment not only the natural cream, but also a special leaven "sour", is a dry culture of microorganisms.
How to cook the sour cream in multivarka recipe videos: