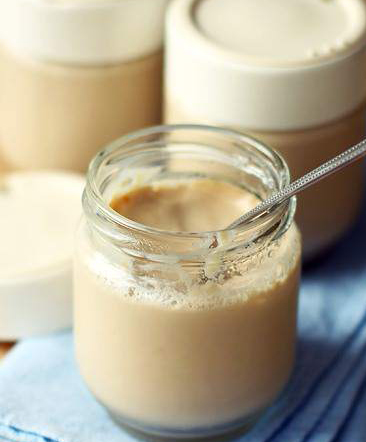 In the stores, many manufacturers offer us ryazhenka, but often do not know, how is such a natural product, whether it some chemical additives, preservatives. The guarantee will only ryazhenka, cooked using Multivarki, is, that it can be used successfully for this purpose. While preparing the product for a long time, but no specific work is not required - you need only lay the food in the bowl and turn on. properly, Kefir - a fermented baked milk, so prepare it first.
Home ryazhenka in multivarka
To prepare home ryazhenka in multivarka, we will need:
pasteurized milk 3-5% – 1,5-2 l, 200 g of fresh cream 20% (yogurt, clabber, shoplifting bioryazhenka or special leaven).
How to prepare a home ryazhenka in multivarka?
1. Bowl Multivarki washed and scalded with boiling water, so that the milk does not put harmful microorganisms, successfully developing during long heating.
2. Fresh milk is required to pre-boil, Pour into a bowl and set the program "Quenching" on 5-6 hours.
3. After a dial tone, it is necessary to cool to a temperature of melted milk 30-40aboutWITH, cast a couple of glasses of milk in another bowl, add sour cream or yogurt, thoroughly mix, Pour back into the bowl and mix it again.
4. Turn on the heating 20-25 minutes and turn off multivarku, leaving the milk to languish under the lid on 5-6 hours.
5. The finished fermented baked milk stored in the refrigerator up to 5 day.
Cooking Tips:
If there is a program "in multivarkaYogurt", you can use it. How to do it - see the video.
If there is a program "Multypovar", the temperature to expose baked milk 80-90aboutWITH, follow, so that the milk does not boil, otherwise it is greatly reduced in volume.
Ate fermented baked milk, fluid, add more cream and once again turn on the heating or program "Yogurt" on 1-1,5 o'clock.
How to prepare a home ryazhenka in multivarka?