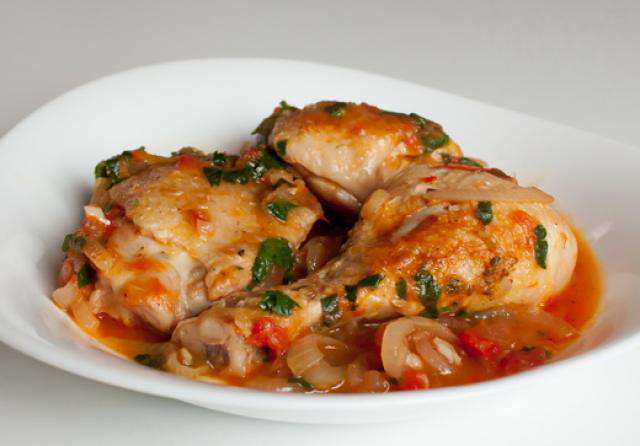 Chakhokhbili - this is one of the famous Georgian dishes, once its cooked pheasant, from which the name of the Georgian language and acquired the name of this dish.
Chakhokhbili currently preparing poultry, mainly chicken, but also from beef or lamb. Meat with the fried, tinted initially without fat, and then languishing in onion and tomato filling, adding spicy herbs and spices. Meat or chicken is better to take the young, with a sufficient amount of fat.
Chakhokhbili Chicken in multivarka
To prepare chakhokhbili in multivarka, we need:
Chicken – ½ , bow - 2-3 PC., tomatoes - 4 PC., on a small beam: kindza, basil, parsley, estragon, garlic, red and black pepper - to 0,5 ch.l., 0,5 ch.l. hops-suneli, 0,5 ch.l. crushed coriander seeds (koriandr), salt, butter - 1 st.l.
How to cook in chakhokhbili multivarka?
1. every green, Rinse tomatoes and cut, onion peel and cut.
2. Multivarku put in "Baking" mode and preheat.
3. Rinse the chicken and cut into pieces, dry and put in multivarku. Fry 5-10 minutes under the lid closed until crust, then stir.
4. Add the onion, continuing to fry another 5-8 minutes.
5. Then lay the tomatoes, spoon butter, salt and supply simmer mode "Quenching" on 40-50 minutes.
6. for example 10 minutes before the end of quenching add greens, spice, garlic. Before serving, stir again. Often when extinguishing add dry white wine.
7. Serve with fresh herbs, tomatoes, sometimes with boiled potatoes.
Cooking Tips: If the chicken is not greasy, fry its not "dry" as in vegetable oil.
How to cook in chakhokhbili multivarka recipe videos: