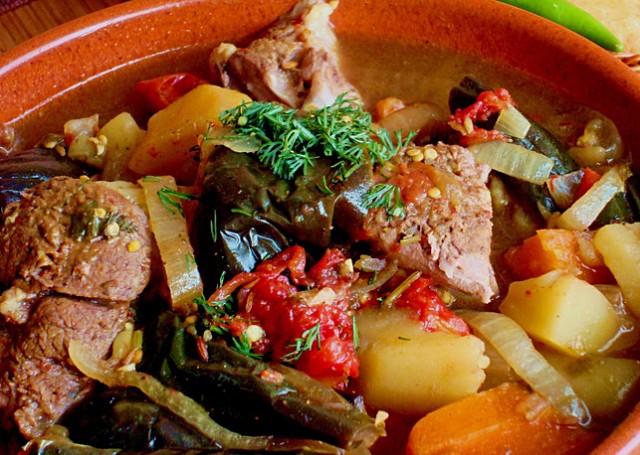 Chanakhi - a rather unusual dish of Georgian cuisine, midway between the first and second dishes. It is produced only from meat of lamb, which long languished with vegetables and spices in a clay pot in the oven. Today, his mistress made from any meat, even from the birds. Meat while fully impregnated with vegetable juice and spices, it becomes very delicious, delicate and fragrant. note, that the meat in this dish should be approximately 1/5 the number of vegetables. Water when cooking you should not add too much, consider, the liquid will give tomatoes and other vegetables. Wonderful fragrant herbs give the dish and garlic. Sometimes chanakhi add a little rice to thicken.
Chanakhi in multivarka
To prepare chanakhi in multivarka, we will need:
500 Mr. lamb (possible pork, beef, bird), 4 tomatoes, 1-2 PC. Luke, 2 eggplant, 2 PC. bell pepper, 4-5 PC. potato, 0,5 garlic head, butter, greenery (kindza, dill, parsley, basil), salt, red and black pepper, hops-suneli.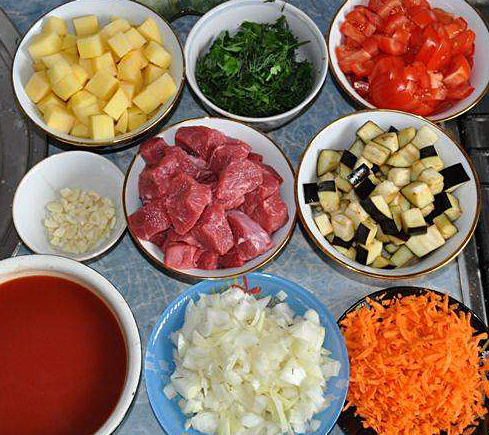 How to cook in chanakhi multivarka?
1. Meat wash and cut into medium-sized pieces. multivarku set in the "Quenching" mode 1 time, lay the meat in a bowl, add a little water and 1-2 tomatoes. solim, pepper and add the chopped garlic part, if the meat is lean, then add the butter 1-2 st.l. or fat kurdjuchnyj. Meat, if desired, can be pre-fry "Baking" mode.
2. At this time, we prepare the rest of the vegetables and herbs: wash and cut into medium-sized cubes or sliced ​​onions, potatoes, eggplant, bell pepper, and herbs and garlic finely chop.
3. An hour stewing meat, laying in multivarku onions, potatoes, eggplant, pepper and tomato layers. Each layer prisalivaem spices and sprinkle, garlic and herbs, leaving little fresh greenery to decorate the finished dish, topped up with a little water or tomato juice. Turn multivarku in the "Quenching" mode for another 1 time.
4. serves, chanakhi sprinkled with fresh herbs.
How to cook in chanakhi multivarka recipe videos: