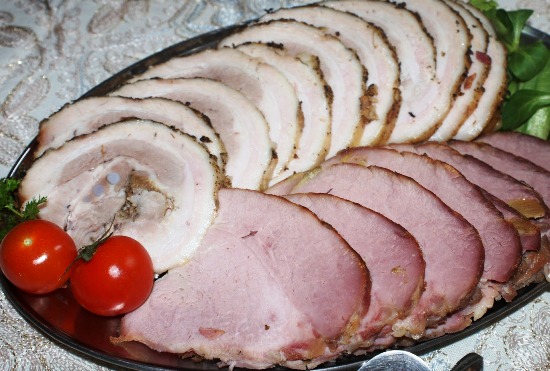 Baked ham - dish, known since ancient times, mention of it is found already in the annals 16 century, and invented it, of course much earlier. Baked in a slow cooker homemade pork will have no preservatives or chemical additives, a useful and tasty product, which can be easily prepared with their own hands.
Baked ham in multivarka
The main secret of a delicious pork - to properly selected piece of meat. For pork is better to take pork, her back or neck young animal, with layers of fat. If a piece of meat has a skin, it should be cut off.
It is equally important before preparing marinate pork lard and garlic and vegetables.
To cook boiled pork in multivarka we need: ham or neck - 1,5-2 kg, 1-2 PC. carrots, head of garlic, salt pepper, seasoning for pork, You can use olive grass, rosemary, juniper, Bay leaf - 2-3 PC., vegetable oil - 2 st.l., if the meat without fat, the 100 g fat.
How to cook boiled pork in multivarka?
1. A piece of pork wash and dry cloth. garlic clean, of the crush lobes press, part cut. carrot wash, peel and cut into cubes plump, bay leaf break apart.
2. Salt, pepper, spices and stir crushed garlic in oil. Spread well piece of pork mixture obtained from all sides.
3. In the pork to make vertical cuts deep, lubricate them with seasoning, then placed in incisions garlic with laurel, alternating with cubes of carrots. If pork without fat, in cuts and lay the sliced ​​bacon cubes.
4. Leave the meat to marinate in the refrigerator for a few hours, possible for the night.
5. In multivarka fry the meat on each side to "Baking" mode on 20 minutes. Next, put on "Putting out" mode 1,5-2 o'clock. You can flip through the meat 1,5 hours and continue stewing on the other hand still 30 minutes. Willingness to check the knife, if it passes freely into the thickness of the meat and the clear juice stands, the meat is ready. leave to cool.
How to cook boiled pork in multivarka recipe videos (by wrapping in foil)
Often a piece of pork baked in multivarka, wrapping it in foil, baking time by this method - 1,5-2 o'clock, "Baking" mode, the bottom water is poured. pork, baked in foil should not immediately disclose, Put it under a light press (eg, cutting board and a small container with water) and wait, until the meat has cooled, so it will not fall apart when sliced.
Cooking Tips:
You can rub a piece of pork with salt and spices, but then coat with mustard, the meat will turn out particularly tender. This method is perfect for hard meat. Some housewives coated with lard and grated salt and spices pork mayonnaise or sour cream instead of mustard.
For shpigovaniya still use olives, bell pepper.
If a piece of meat wide and flat, it can be rolled into a roll, fix culinary twine, pre-plastered meat lard and spices its. In the middle of the roll can be put cheese, nuts, prunes and dried apricots.
How to cook boiled pork in multivarka recipe videos (with wrapping paper for baking)