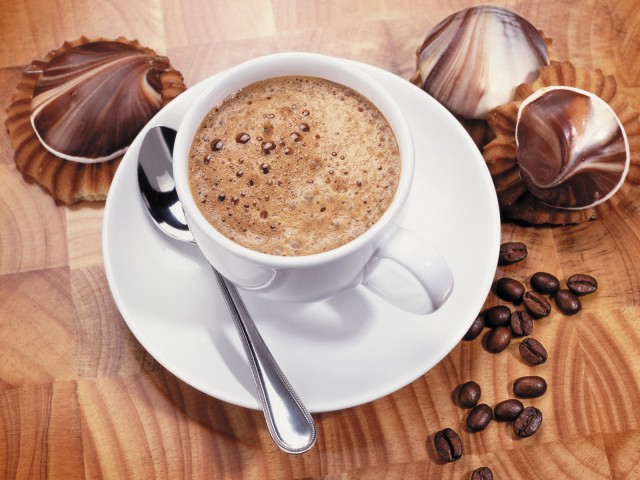 Coffee desirable, but does not necessarily have on hand coffee machine, Turk, or some other clever devices such aeropressa. You can do quite a simple saucepan, coffee maker, or a conventional cup. Let's deal, how to make coffee at home without any devices, even without the Turks.
How to brew tasty coffee in a cup?
It turns out, Coffee can not only cook, but also how to brew tea. Coffee will be no less delicious. To prepare better to take a ceramic cup with thick walls, it is better to continue the temperature, coffee and give fuller flavor and aroma.
Cup must preheat, just pouring boiling water into it and letting stand for a few minutes, it should be a red-hot, boiling merge. Quickly pour finely ground coffee, 1,5-2 ch.l. with slide (taste), then pour boiling water prepared (150 ml), most importantly, sprinkle the foam with a pinch of sugar, and close the lid, eg, from sugar bowls (if fit) or a saucer for a few minutes.Sugar well upset the entire grounds.
remove the dish, mix. Now you can drink your coffee, if desired, add sugar and milk to taste.
Exactly the same principle brewed coffee in a porcelain or ceramic pot on a high number of servings.
Convenient for brewing coffee using special mug with a strainer, where ground coffee is placed on top and pour the boiling water, all grounds remains in it, and misses the cup.
How to cook a delicious coffee in a saucepan?
Boil a pot of coffee can, if the hand is no other equipment, and immediately come to visit a lot of people.
Take enamel pot, the main thing, that there was no foreign odors, before brewing coffee it is better to rinse again with, and boil water in it, which is then drained. Coffee for this method of cooking is to be a large or medium ground, since fine grinding harder grounds settles.
The kettle pour water, calculated from the number of servings, and heated to reflux. The pan pour ground coffee, based on the exemplary ratio 2-3 ch.l. Slide-on portion in 150 ml of water, but to focus better on their own taste preferences, also, if desired pour sugar, a few grains of salt, and fill with boiling water prepared.
The pot was heated again to simmer, but in no case do not bring to a boil. As soon as the foam begins to rise, the pan is removed,, so you can repeat a couple of times. Then give the drink more brew a few minutes and pour (possible through a strainer) in warmed cups. To post the table sugar, milk, lemon. Enjoy your meal!