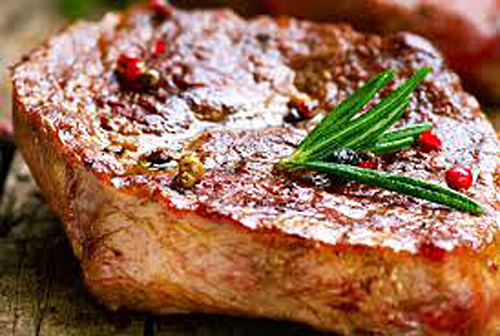 Steak - perfect dish for a holiday, friendly party or family dinner. Steak, fried in multivarka, We get a very gentle, with bright and rich flavor. Meat, The thus prepared, It retains all its juices and useful qualities, not peresushyvaetsya, what is not less important, of it is simply impossible to break away!
Steak multivarka
method №1
To cook beef steak in multivarka, we will need:
beef steaks, salt, pepper, olive oil.
How to fry the steak in multivarka?
1. Steaks wash and dry. sprinkle with spices, postpone 10 minutes at room temperature, to steak soaked spice aroma.
2. Steak to grease with olive or other vegetable oil with a brush.
3. multivarku set in "Baking / Roasting" mode, wait, until it is well warmed up. Steak with salt and lay on the bottom Multivarki. Close the lid and cook 3 minutes, open the lid, turn over and fry steak 3 minutes on the other side under the lid closed. Repeat that again for each side. roast steak time to increase or decrease, in accordance with the desired degree of roasting.
4. Ready to pull the steak on a platter and let rest in bed a few minutes. Serve with vegetables and herbs, or with a garnish of discretion.
method №2
To cook beef steak in multivarka, we will need:
steaks and beef 300 g, fresh thyme and rosemary - for 10 g, salt, pepper, olive oil.
How to cook the steak in multivarka?
1. my beef meat, obsushivayut. We make small incisions in steaks, sprinkle with spices and surrounded by sprigs of rosemary and thyme.
2. multivarku set in the "Frying / Baking" mode, on 15 minutes, Pour olive oil and a good warm up.
3. In the bowl lay prepared for frying steak, fry it with the lid open 7-10 minutes, We turn over to the other side and continue to fry for another 4-5 minutes with the lid open, then the program disables.
4. For steaks are served hot sauce, vegetables or side dish.
How to fry the steak in multivarka recipe videos: