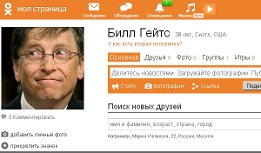 Social network topics and distinguishing, that it can be found in anyone. You can find a good friend, but you can run into a malevolent and adequate user, which can, for no apparent reason to write you nasty. But those good social networks, that you can rid yourself of communication, with such people their poised to blacklist. But what to do, if accidentally blacklisted raised his wrong?
How to display such User "out of darkness?"And is it possible at all to do? Yes, can! But first things first, let us first understand, how to bring the user to the blacklist?
What to do to bring "well-wisher" in the black list?
To bring unwanted companion to blacklist, follow these steps:
1. Go to the site classmates and from the menu select the "guests"
2. The screen displays photos and names of the guests, that you may dwell in recent years.
3. Choosing guest, which no longer wish to have any online relationship. Hover your mouse over the photo, pop-up window, which will feature "Block" Click on it. In the pop-affirm their intention to dialog.
4. Now, the blocked user will not be able to prevent you comfortable spending time in the "Classmates".
Now let's deal, how to bring user from the blacklist.
How to bring user from the blacklist?
To bring the user from your "blacklist" you have to follow these steps:
1. Go to his page in the "Classmates" and scroll the cursor down.
2. Find the option "Black list", sign in.
3. The screen displays the profiles of those users, included in your Black list.
4. Select the one, who got there deserved, hover over the photograph. The window that POPs up, among the rest, will feature "Unlock"
5. After selecting "Unlock" function dialog box will appear asking you to confirm your action.
Once everything has been decided - confirm! Now with this user can communicate freely.
The presence of the black list in the social network allows people to not think about the people, who, for whatever cause you trouble, since you can just rid itself of communicating with them using a similar option.