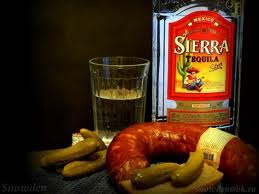 Today you will learn, how to drink Mexican tequila. Why Mexican? because, tequila - a drink, which is produced only in Mexico and elsewhere. Remember this.
How to drink tequila?
The most common methods of, how to drink tequila, following: tequila salt, lime, tonic and beer. They are quite well known for heavy drinkers. I would like to warn, that the effect of tequila mixture with beer very serious. Severe intoxication occurs quickly followed by a hangover.
Drink tequila from narrow bottomed cups. But it does not matter. Our people consume this drink from any glasses.
When to drink tequila?
Usually drink it before meals or after. Important: while eating the tequila you can not take. Snack it is not accepted.
How to drink tequila?
First of all, tequila should not be icy, and cool.
Secondly, if you are trying it for the first time, do not drink in one gulp. It is better to make a couple of sips, to taste the. Suddenly you do not like, because tequila is made from natural juice of the agave.
Thirdly. Tequila can be added to coffee, tea, the juice. With the use of tequila, there are many cocktails, eg, the well-known "Margarita".
How to drink tequila with salt?
The question immediately arises: why salt. Because it is tasty, mutes the taste of agave, kills citric acid. There are two ways of, how to drink tequila with salt.
The first. Rim glasses grease lemon. Then dip a glass top salt. As a result, the rim is covered with two layers. First layer - lemon juice, and the second - salt. Now you can pour the tequila.
Second. On the back of his hand, namely, near thumb, pour salt. Then lick it with his tongue, drink a tequila and eat a lemon.
How to drink tequila with lime?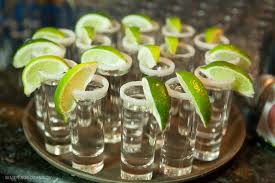 In addition to lemon, there is also a lime, which also gives an exquisite taste of the drink.
How to drink? It is necessary to lick the back of the palm, is then sprinkled with salt place. Prepare a slice of lime. Now salt lick, drink tequila and lime to seize.
Do not use other citrus fruit, except lime and lemon, they spoil the taste of tequila.
Receiving information, how to drink tequila, feel free to go to the bar and order a drink this divine. Or buy a bottle of home, and relax, savoring its delicious taste.
How to choose and buy tequila?
The most popular drinks are now:
tequila "Blanco" – white;
tequila "plata", "premium";
WHITE tequila "platinum"
Tequila "Blanco" is the complete drink from the agave plant. Tequila "board" in contrast to the first beverage sustained, with transparent color and is composed entirely of the agave alcohol. Tequila "Platinum" is characterized by the highest levels and therefore ranked amongst others the highest place. All these types of tequila are sharp, but full-bodied and rich flavor, which sends man to try aroma of Mexican blue agave.
But how not to make a mistake and do not buy the wrong drink?
Simply, please read the label on the bottle. The main method, which are experienced buyers of tequila, It is, that the label should be the inscription "100% de agavo». Not buy cheap drinks «mixta». it, in the opinion of experienced people is not real tequila, a mixture of different alcohols, the use of which would result in a hangover, which you do not even represent!