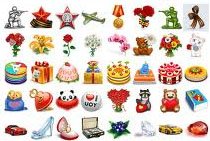 The question of, how to send free gift interested in almost every user "Odnoklassniki" social network. After all always a pleasure to make a gift to a friend or girlfriend, and if it receives more and not have to pay, so it's twice as nice.
When you can take advantage of free gifts?
Here it is necessary to make a reservation, what free gifts on the "Classmates" can be sent only, When this site is carried out such an action. In this case, at the time of such shares available 1 – 2 kind of free gifts, but you have the ability to send such gifts to all your friends.
In the rest of the time, when the "Classmates" is not themed action, for the gifts have to pay.
The algorithm is sending a gift to a friend
Let us consider the algorithm, through which you can send free gift.
To send a gift you must go to the page to its recipient.
Under the photo, select the function "Send a gift"
Choosing the right present for you, to speed up the selection of gifts category, you can use the search field. Choosing a gift is made by clicking on it with the mouse.
you can write the text in the window that appears,, intended gift recipient and select its type (public or private) The sender's private gifts can see only the recipient.
Click on the function "Send"
Gifts in the "Classmates" will cost from 20 to 80 OK. Oki acquired by sending an SMS from a mobile phone, with a credit card or through electronic payment systems. Now you know how to send a free gift in the "Classmates". Send and receive the presents, Rejoice with your friends!