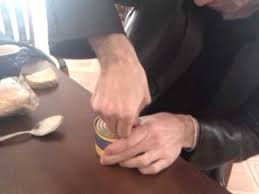 History is silent, who for the first time it occurred to publish such useful information- how to open a can of sprats two spoons and sneakers.
A little history
One of the first mentions of such an unusual way to "get food" appeared to quote pad Bash.org. Students shared their knowledge, obtained in the walls of an average dorm. but, the knowledge of how to open a Bank kilka two spoons and sneakers, can be useful in everyday life. for example, during the journey, when all the equipment is packed carefully, and just too lazy to look for among the many trunks opener. Or another interesting pattern – on a picnic (fishing, hunting, camping) Many love to take canned. It's delicious and practical -from securely sealed cans never pour out the contents. But for some reason, the usual "opener" undeservedly forgotten at home. That had an excellent opportunity to test the acquired knowledge. By the way, instead of talc, You can use any materials at hand.
instruction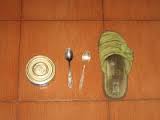 so, you have Bank of canned, two ordinary spoon and sneakers. the main thing, what you need to do is to make a hole in the Bank. Further – a trick. To punch a hole in the bank, You do not need to run to the grinder teaspoons, tie them (spoons) in a knot or rubbing tools to shine. You just need to rest the spoon in the place, where all the laws abuts Opener. handle down, of course.
To make a hole in a tin with a spoon, There are several ways. The first is to make a "solasia" movement strictly in one place. it's a long time, dull, and threatens to form calluses. We go the other way. Sneakers or other suitable object will hit the end of a spoon to scoop. Beat strongly and confidently. If tin cans can not be, it is compatible with pressing punches. It is safest to use your own body weight.
here you go, you could punch a small hole. Congratulations, victory is near. Now remember, how to open a bank normal "opener", and reproduce the same movements. Tin will be torn, hole will gradually become longer. Once the hole is increased to such an extent, which can accommodate two spoons, and use the second "device". With the help of two tools it will go much faster.
After achieving the cherished goal can relax, rest and start your meal or, or to the opening of the following banks, which you will present to the audience amazed by your ability. You can provide physical assistance, repeating the whole process from the first point, or, in one known parable- "Give one's neighbor the bait", i.e, teach fellow simple wisdom- how to open a can of sprats two spoons and sneakers. Do not demand gratitude for the master class, remember, that any good deed must be done absolutely free!