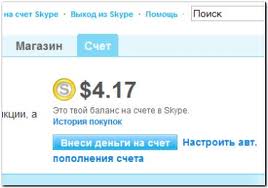 many people know, that the surcharge on Skype, you can use a very useful services. About tom, how to make this board, we discuss in this article.
Pay for Skype in several ways. In this article we will look at two of the most common and widespread:
Payment credit card (Mastercard, Visa)
Transferring money from electronic purse (Webmoney, Qiwi, Yandex money, Pay Pal)
novice users, do not have electronic wallets, recommended make payments via their credit card.
If the credit card you do not have, you can put money on Skype through one of the most basic services: Yandex money. About tom, how to sign up in this system, you can learn more on page money.yandex.ru. If you have a mailbox on Yandex, the registration procedure is considerably faster: only need to enter additional information and to become the owner of the electronic wallet, with which you can pay for Skype. Replenish the purse balance is possible either by bank transfer, or purchase a special card, which are sold in the mobile phone stores.
How to pay for Skype
Go to the website Skype.com and log
On the menu Account Information click the link Billing and Payment
On the next page, press the green button Buy Skype account
Select the currency and the amount and press Continue. Pay attention to the function of automatic account replenishment: when the money in the account will be terminated, account will be replenished automatically.
Fill in the contact information and click Continue
Select a Payment Method, tick "I accept the terms ...», after referring to them, and press Continue
You will be redirected to the payment page. Enter the credentials of your wallet and make a payment. After some time, the money will appear in your account Skype.
If something did not work, or money deducted from the purse, but not credited to the account, contact Skype Support.