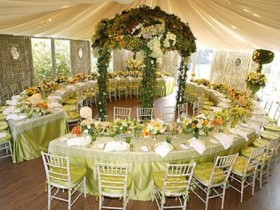 Feast in the house - this is a fun atmosphere, vanity with salads and beautiful outfits. But the table also must emit a festive mood. How to decorate a table so, to match the name of celebration and surprise guests with its view.
How nice to decorate the table?
Beautiful table - it is not only placed on it originally decorated salads.Its design involved and a variety of holiday accessories.
Tablecloth. It must be beautiful. tablecloths the color does not merge with the dishes. observe the contrast.
Dishes. For table is better to use one set of dishes, that it was the same. Wine glasses and other subjects should shine cleanliness.
napkins. They should be nicely folded, eg, fan.
candles. they are used, if you are planning a romantic evening, or New Year's Eve. In other cases, they are irrelevant.
flowers. Apply can be like living, and artificial.
Vegetables and fruits. Cut from their different shapes look beautiful on the holiday table.
As originally decorate a festive table?
Each holiday has its own theme. Therefore good to know, how to decorate a table, to match date. At Easter a good table draw, Using painted baskets of eggs, spring flowers. At Christmas, give originality vase with fir branches. The tablecloth should also reflect a holiday theme. At the wedding table decorated in accordance with the anniversary. And so on.
these days, who decided to celebrate, gathering at the table, in the year a lot of. In addition to the correct design on the same topic, there are other options for a special table decorations.
Tablecloth. Dilute basic cloth cloth of a different color. for example, the blue fling, bit shifting in the other direction, tablecloth yellowish.
flowers. No need to buy them in the store. Surely you have in the house there are flowers in pots. They can decorate the table, that looks unusual.
Sweets. They can be submitted together with the main dishes. A single multi-tiered vases, which will be based candies, cookies, chocolate and other goodies.
Fruit cutting or a bowl of fruit. The table will look spectacular.
How to decorate a table fruit?

An essential attribute of the holiday table are fruits. Beautiful vase filled with different fruits so, so you can see all the fruits. You can even paint their food colors. for example, color gold and silver.
It looks perfect slicing of fruits, beautifully laid out on a small plate. With special cut shredders can be any figures, eg, flowers. by the way, Fruit is easy to make colorful cube. Take kiwi, oranges, bananas, grapefruit, an Apple. Slice them in neat chunks and place cube, alternating colors.
Which lay down that?
Let's start with the bread, it is better to put in a wicker bread bins. It can be cut into thin slices black, white, gray and beautiful lay in a basket. In any case, it is not necessary to lay down a lot of bread.
Butter can be put in a special lubricators or small plates.Oil is fed in the form of a truncated bar, squares. Some housewives whipped him and served him as a cream, but you can cut it with chips or small slices.
Sausage served in a flat plate, can be of various shapes. They cut it very thinly and lay down roller, fan. On the same plate, you can put different kinds of sausages, rollers, squares or triangles.
The fish can be nice to bring an oval saucers, and eggs is served in small saucers.
the small size of the vegetables can be served whole, and if a large vegetable, cut into large slices. fit is not very large bowls to feed vegetables, but you can use baskets for vegetables (if you apply them in their entirety).
In fact, how to decorate a table, He knows every good housewife. This article will be a complement to its skills.