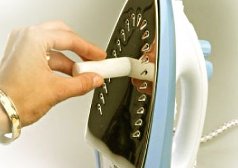 Every housewife knows, how sometimes in life it is necessary appliances, which not only prepare the meal, will wash, Uber, but also pat all. understandably, that in the arsenal of even the worst hostess always find such a device, such as iron.
To date, the irons are powerful systems, that can and to steam, and iron at the same time, while having at its sole unique Teflon coating. Inside - materials, promoting self-descaling. If women in the distant past, having the heaviest drags on the coals, We are told about these updates, in response could hear laughter and only, because the main problems for them, then, is the quality and speed of ironing Iron warm. By contrast, modern women are not aware of such problems, but on the agenda they are constantly the question is, how to clean the iron metal penetration and scale.
The iron can be cleaned from metal penetration and scale?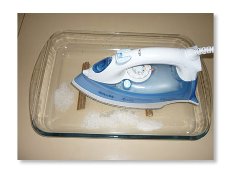 Currently, among all the available tools greatest popularity acquired paraffin and salt. So, with a large carbon deposits on the iron must be heated to its maximum state and an occasion on a sheet of paper, which is scattered salt (best coarse). To achieve a greater effect in the salt can be added wax shavings, grated on a fine grater.
To scrub carbon deposits on the iron, you can also use normal paraffin candle. To do this, wrap it in a piece of ordinary cotton fabric and with an effort to clean the iron is still hot. After doing such an operation, the main thing - it does not forget to remove wax residues from the soleplate.
Clear the iron metal penetration and scale is also using a matchbox, or rather part of it, where the sulfur. Lightly rub the hands need to gray iron, heated to a maximum temperature. Use can also fine-grain sandpaper, but remember, that from it under more intensive cleaning scratches can be formed on the soleplate.
Special tools for removing metal penetration
With regard to the special anti-fouling, they can be purchased at any hardware store. In this case the most popular is a special pencil. To clean the iron and burn-scale pencil applied to the soleplate, maintained for some time and is removed with a slightly damp cloth.
On the whole,, to iron served for a long time, necessary even at the first stage the right to select the appropriate temperature conditions to the types of fabrics and things. When, when a deposit has formed, you should not put it off indefinitely cleaning, thus provoking cause the iron to the idle state.
How to Clean iron from scale, see below.