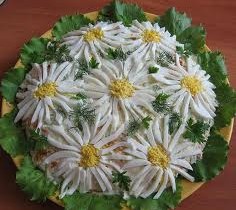 If you just decided to treat my family salads, then he does not need registration. Enough beautiful salad. But the salad on the holiday table should look nice and original, Visitors gave to your talent. Prepare a simple meal, if you have a prescription. But it can not be described, how to decorate the salad. You have to fantasize or refer to another source for cooking.
How nice to decorate salads?
The basic rule of decorating salads - using products, included in the recipe. The green is not the case. It will not spoil the taste of the dish.
Methods of processing of salads
Figured slicing vegetables. Tomatoes can be cut roses, bow - chrysanthemum, radish - lily, cucumbers - leaves, etc..
natural dishes. for example, eating salads, which include pineapple. Cut lengthwise into two parts, it can become a salad bowl.
nuts. Suitable for salads with nuts. Put the salad in the form of three cones, then take the almonds and stick it into a mass so, To obtain flakes, complement the dish greens. In appearance salad should be similar to the spruce branches with cones.
How to decorate a salad under a fur coat?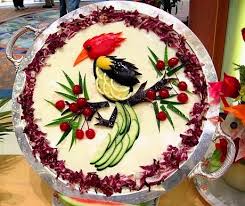 to understand, how to decorate the salad, Use the following ideas.
A fish. Share salad in a flat dish shaped fish torso. Half rings of onion scales will. Boiled egg cut in half crosswise, resulting ring will eye. Pea black pepper - it lashes. Of carrot triangles will turn tail, fins and the fish's mouth.
Rainbow. Along lettuce lay colored thin strips of products, finely chopped, in turn: carrot, green onions, protein, purple onion. Now carrots, cheese, tomatoes, protein, purple onion. AND, finally, green onions, carrot, cheese, a tomato, purple onion, carrot. Strips may be less, depending on the amount of salad.
Post a salad, carnations, in small bowls for each guest separately.
What else you can decorate? pomegranate seeds, put slices of vegetables Flowers, Sprinkle grated eggs.
How to decorate a salad?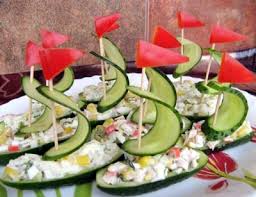 The decorated with salad? greenery, which are stacked sprigs or leaves. You can also use products, included in salad. Cut their figures. Olivier did not spoil the decoration of the products, which are not used in the recipe. It's a slice of lemon, apple, pomegranate seeds, bell pepper, grapes, olives and red caviar. From all this it is possible to spread various pictures, smiley faces and more, how fancy enough. the main thing, do not overdo it with them. Salad should not be closed under the ornament.
another advice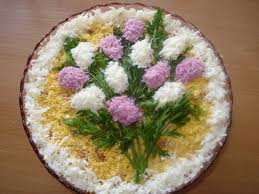 In order for your salads look beautiful and appetizing, use of green products, yellow, orange, red flowers. To decorate a salad, you can take the same ingredients, of which I was prepared salad. For example, salad "Mimosa" can be decorated with the same potatoes and carrots, egg, making of them a lilac or rose. for lilac, swipe across a large grater boiled egg protein. The first half soak in the juice of beet, it will stain protein in a beautiful purplish hue. In a beautiful saucer put himself salad, then apply on several places "inflorescences" lilac painted and simple protein. A free space between them decorate green. So you get a salad with "Lilac Bouquet". Cool, is not it?
Now knowing, how to decorate the salad, you can surprise your guests and share with them the skills.