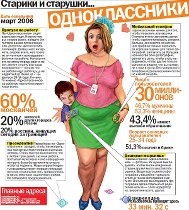 The regulars of the site "Odnoklassniki" often they meet with the, that this social network users frame their names or nicknames intricate, but beautiful symbols. Even if it is not always clear. Of course, This design names can cause the issue: "How to make yourself as well?"How nice to write a nickname like symbols? We will try to answer these questions, describes three ways to use the beautiful characters when writing the name in the "Classmates" website.
The first way of writing the name in the beautiful
"Classmates"
To do this, use the Windows character table. Find a table, you can use the following actions:
Start menu - Accessories - System Tools - Character Map
Here there is a set of characters, some of which are quite specific. Quite possibly, here you will be able to choose the characters for themselves, to identify your name in a social network as an extraordinary.
But this way of writing their nickname is suitable only for those, whose Windows operating system. Yes, this is a fairly common system, but there, else and Ubuntu Linux or Macintosh - what to do in this case,? And for this, we consider the second method.
The second way to write a nice nickname
Type in any of the search engines' Symbols for "Classmates" and pass on any of the links.
The site can be copied characters in two ways.
1. Select symbol, pressing the left mouse button and share it, Further clicking the right mouse button - the command "Copy" symbol remembered. Then set the cursor to the desired location, where the planned location of the symbol, click the right mouse button, "Paste" command
2. Save time on the previous manipulations of the mouse will replace the key combination Ctrl + C - copy, and Ctrl + V - paste.
The third way to write nicely nick
This method of searching for unusual characters to write a beautiful nickname in the "Classmates" rather unusual. To start, you need to activate the NumLock key if it is activated, the majority of keyboards are signaled by burning indicator light.
After that, as the NumLock key is activated, you have to press "alt" key and any digit to the right of the keyboard – on the digital block. As a result,, you will receive a variety of symbols, So eg, scored alt + 3, you get a heart symbol. In this way, "At random" you can find some interesting characters, which can help to decorate your name on the "Classmates"