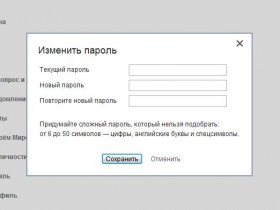 Social network "Odnoklassniki" is a resource, Russian-speaking audience in which people speak the Ukrainian language. It was established in 2006 year. life's mission is to search for his former classmates, fellow students and dealing with them.
For today, This site is very popular in Russia, and in Ukraine. The registration process is free. Although there was a time, when in order to get access to some features, it was necessary to send a message, for which a fee was carried out.
In real life such a situation arises, when your account may be compromised. In this case, We need to urgently change the password more secure. You ask: "How to change the password in the" Classmates?»». answer.
How to change the old password to a new?
To change your password, follow the following instructions:
open your page in the resource odnoklassniki.ru;
under your photo there is an option "More», click on it;
menu appears, there choose "Settings";
after you leave the menu settings page;
Select from the menu option "Password", this is an old password;
click on the word "Password" and falls for a new dialog;
in this window, enter the old password once, and then twice the new
then click on "Save"
Hooray! You can change your password! Your old password is changed to a new and reliable!
What to remember when replacing a password?
Remember, the password should consist of six to fifty characters. Use a combination of numbers and letters, special characters, and you make your password secure. Now, When you replace the old password with the new, to remember your password and no one to announce it, in the interest of the integrity and security of your page in the social network.
And finally, can say, that the password reset process - it is not very complicated actions. You only need to find the "Settings" and open the window, where you need to change your password.