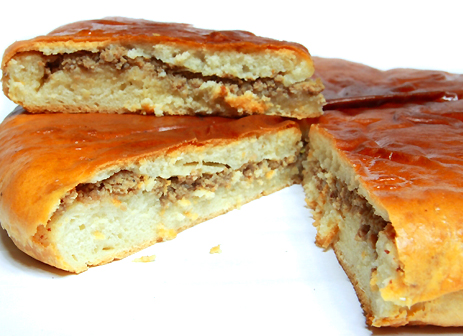 Pies on the table - the perfect addition to any family holiday or a normal dinner. Pies come in with a variety of fillings: with meat, vegetables, sweet with fruit or jam, with cottage cheese, eggs, a variety of cereals. In multivarka bake pies is very simple, with its help you can quickly bake a cake, special, if unexpected guests descended. Most often in the closed multivarka baked pies, when filling in and is closed on all sides test. They are obtained from golden and appetizing crust, very curvy, juicy and tender. The dough used different - yeast, without yeast in cream or yogurt, etc..
It should be noted, that bowl Multivarki browns only the bottom of the pie, and its upper part, though baked through, but is not browned. If you remove the cake and turn it, continuing baking for a while, and the top of the cake will be golden.
When removing the cake, Use the container stand for steamers, it is inserted into the top of the bowl, and it overturned bowl Multivarki with pie.
If you use baking paper or silicone mat, The cake is removed from the bowl is much easier, in doing so he is not broken.
1. Cake from yeast dough with meat multivarka
To prepare the cake from yeast dough with meat multivarka, we will need:
for the dough: 300 g flour, 1,5 Article. milk, ¾ ch.l. salt, 1 ch.l. dry yeast, 1 st.l. vegetable oil, 1 Article. l. butter.
For the filling: 300 g minced, 1 PC. Luke, salt, pepper, 2 st.l. water or broth.
How to cook a cake of yeast dough with meat multivarka?
1. All the ingredients for the dough mix in a bowl and knead not very stiff dough, if necessary, increase the amount of milk, or reduce the amount of flour, because the flour is different. The dough cover with a towel or foil and leave for 30 – 45 minutes in a warm place.
2. Minced meat fry in multivarka in the "Baking" until soft, together with chopped onions, add salt, pepper to taste, liquid and mix thoroughly.
3. The bottom and sides of the bowl Multivarki oiled. Obmyat the dough and divide into two parts, approximately 2/3 part of the dough roll circle and put them and the bottom wall of the bowl, making bumpers.
4. The prepared minced evenly over the dough and smooth, put on a few minced pieces of butter.
5. The second part of the roll out dough, top with minced meat and pinch skirting the edge.
6. Multivarku set in "heating" mode 20 minutes, then in the "Baking" mode 60 minutes. For some time by the end of the baking mode, should turn the cake, continuing to bake at the same time more 20 minutes.
Cooking Tips:
To pastries are not settled, you need to remove the cake did not immediately, and hold it under the lid closed yet 15 minutes, Be sure to disconnect with the mode "heating".
With yeast dough you can bake cakes with various fillings at your discretion.
2. Cake-pie with chicken and cabbage multivarka
To bake a cake, apple pie and cabbage in multivarka, we will need:
For the filling: cabbage (best Chinese) – 0,5 kg, bow - 1 PC., smoked chicken - 100 g, vegetable oil - 2 st.l.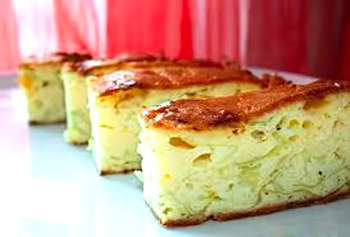 for the dough: wheat flour - 100 g, baking powder - 1,5 ch.l., egg - 3 PC., sugar 1 ch.l., salt, pepper.
How to cook a pie, apple pie with cabbage and chicken in multivarka?
1. Chop the onion and lightly fry in "Baking" mode on vegetable oil, then put in a bowl.
2. Chicken chop, shred cabbage, grind with salt and add to the roasted onions, Spice up, salt to taste.
3. prepare the dough: Beat eggs with sugar, salt and spices, gently add the flour, mixed with baking powder and mix. Should get a thick and flowing mass.
4. Add the dough in a bowl with cabbage, onions and chicken and mix thoroughly all.
5. Basis charlotte pour into a bowl Multivarki, the bottom and sides which prelubricated with vegetable oil.
6. Bake in "Baking" mode about 40 minutes, readiness check in using needles or fork, on it should not be a batter.
7. Excluding heating, Wait, while Charlotte has cooled slightly, and carefully remove it from the bowl using a container-steamer, not to break.
Council: instead you can use chicken ham, boiled eggs, pickles, carrot, as well as rice, adding them to the cabbage.
3. Sour cream cake with jellied rice and eggs in multivarka
To prepare sour cream pie with rice and eggs in multivarka, we will need:
for the dough: flour - 1st., baking powder - 2 ch.l., cream - 250-300 g, egg - 2 PC., salt, pepper.
For the filling: bow - 2-3 PC., boiled rice - 200 g, boiled egg - 4 PC., vegetable oil - 2 Article. l.
How to cook rice cake with sour cream and eggs in multivarka?
1. Chopped onion and fry in "Baking" mode in vegetable oil until golden brown. Put it out of the bowl in a bowl Multivarki.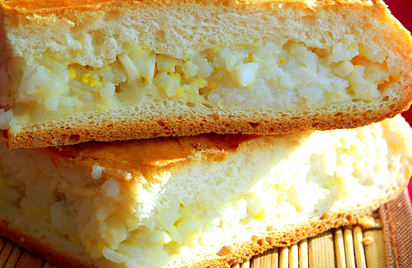 2. Boiled egg chop and mix with rice and onions, season with salt, pepper to taste and mix again.
3. Lightly beat the eggs with salt, add sour cream and flour mixed with baking powder. Beat until a homogeneous mixture of, let stand 15 minutes.
4. Multivarki bowl brush with butter or oil, fill it about 2/3 test, spread evenly over the surface filling and then top to fill the remaining dough.
5. Bake the cake in the "Baking" mode about 1 time. After the beep, open the lid and let the cake cool slightly, then carefully remove it with the vapor container.
Cooking Tips: based filler sour cream dough can be baked pies with a variety of fillings, eg, cabbage, chicken, vegetables, meat, mushroom, fish, etc..