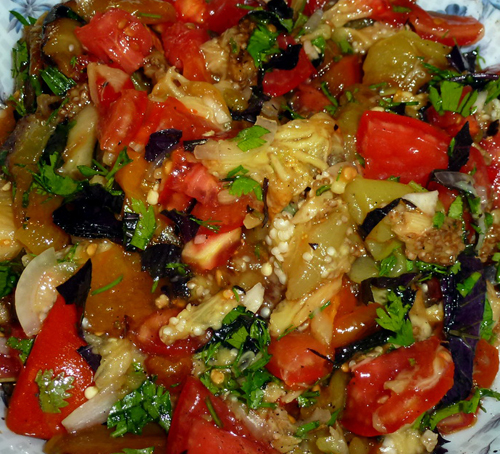 Eggplant is considered to be not only delicious, but useful vegetable. It contains a large amount of potassium, which is very beneficial for the cardiovascular system, and calcium, phosphorus, iron, B vitamins, fiber. This vegetable recommended for metabolic disorders, kidney disease, liver.
the, who wish to lose weight, important to learn, that the eggplant well break down fats, they are low in calories, so delicious eggplant can be safely included in the diet. Vegetable dishes with eggplant in multivarka obtained to fame, because it perfectly preserved nutrients vegetables, Besides, roasting at a minimum amount of oil used.
Aubergine in multivarka
To cook eggplant caviar in multivarka, we will need:
eggplant - 2-3 PC., bow - 2 PC., carrot - 2 PC., sweet pepper - 1 PC., tomatoes - 5 PC., vegetable oil, salt, garlic, greenery.
How to cook eggplant caviar in multivarka?
1. All vegetables cleanse, from pepper seed take out box, my, middle-sized cut into cubes or slices, my greens, finely chop.
2. multivarku set in "Baking / Roasting" mode 15-20 minutes. Pour the oil and wait, until it warms up, laying onions, fry until golden. Stir from time to time.
3. Add to the bowl of carrots, continuing to fry, do not forget to stir.
4. We lay eggplant, tomatoes and pepper, herbs and passed through a garlic press (or finely chopped), salt, spice, mix the contents. "Baking" mode is disabled.
5. We put "Quenching" mode 45-60 minutes.
6. Served, sprinkle with herbs, as a garnish or separate dish.
Cooking Tips:
When cooking eggs in the middle, you can add chopped diced potatoes.
Caviar can be turned into a puree using a hand blender.
If the peel from the eggplant is bitter, they need before cooking sprinkle with salt and leave for 15 minutes, then rinse with water.
To get a more pungent taste, add chili pepper to taste.
How to prepare caviar of eggplant in multivarka recipe videos: