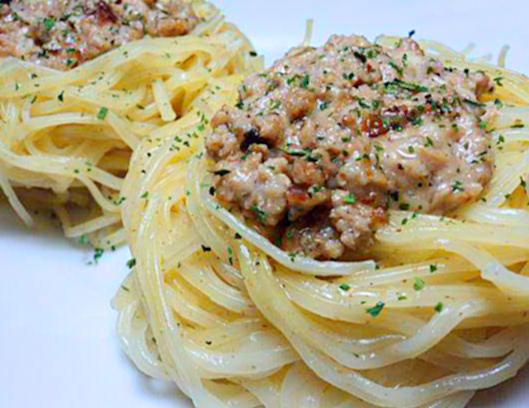 For this dish will be required in the form of pasta nests, we are going to stuff and cook with the help of the helper-slow cooker.
Nest of pasta with minced chicken in multivarka
To prepare a nest of pasta with minced chicken in multivarka we need:
6-8 PC. pasta "nests", minced chicken - 400 g, cream - 200 g, bow - 2 PC., milk or cream - 2 c., salt, pepper, oregano or olive grass, garlic, dill or parsley, tomatoes 2-3 PC. or tomato paste - 1 st.l., oil for frying.
How to prepare a nest with chicken meat in multivarka?
1. Onions and tomatoes are my, cut into.
2. In the beef add sliced ​​onion pieces small, garlic, pepper and salt, mix well, you can add chopped greens.
3. Nest stuffed with minced meat obtained.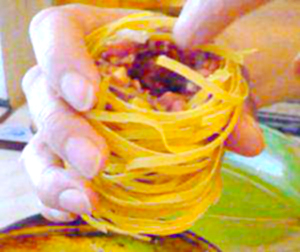 4. Multivarku include mode "Baking / Roasting" and lightly fry the rest of the onions and tomatoes. program switch off.
5. Add to the bowl with milk and sour cream, stir well, solim, pepper and put into the sauce stuffed with jack. If necessary, add milk, to jack were covered with sauce.
6. install the program "Putting out" on 1 time.
7. Nest sprinkle when applying fresh herbs.
Cooking Tips:
Stuffed jacks can be any filling - minced meat, vegetables, ham, meatballs, boiled eggs and cheese, fried mushrooms, cheese.
Fill can also be varied, eg, based on mushroom or vegetable broth.
How to prepare a nest of pasta with minced chicken in multivarka: