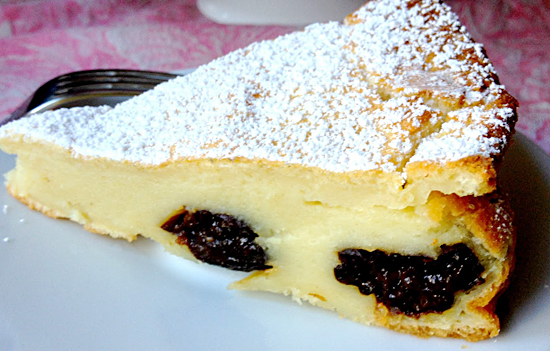 This dessert invented in France. Dried pre-soaked in brandy and rum or baked soft dough with. It gives a very unusual combination of juicy and fragrant dried fruits and light dough. For the range classic recipe uses prunes Breton.
French casserole with prunes in multivarka
To prepare the French casserole with prunes in multivarka, we will need:
0,5 liters of milk, 100 g flour, 100 g sahara, 10 g vanilla sugar, 50 g butter, 3 eggs (large), 100 g prunes, 50 g cognac or rum, butter for greasing.
How to cook French casserole with prunes in multivarka?
1. Prunes are washed and scalded with boiling water, dry and pour the rum or brandy, leave on 6 hours or overnight.
3. Melt butter.
4. Beat eggs with sugar, add vanilla sugar, melted butter, pinch of salt, continuing to whisk, add milk and flour in portions, until a homogeneous batter.
5. Multivarki oiled bowl, put on the bottom prunes evenly and fill test.
6. Bake in "Baking" mode 50-60 minutes.
7. Carefully remove the casserole using the steamer tray.
Cooking Tips:
Try the Far Breton with a variety of dried fruits, eg, with dried apricots, raisins, figs, or a mixture thereof.
For children, you can instead of alcohol soak dried fruit in tea on 2 o'clock.