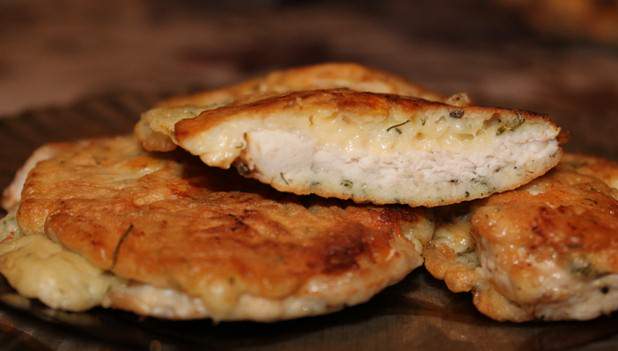 Fillet in cheese - a dish from the category quickly and easily. And yet tasty and festive. This dish - a real lifesaver: it is excellent in the weekday, because it requires minimum time and minimum of cooking products, it is possible to submit an unexpected guest, it is able to decorate any celebration. multivarka help, to oil when cooking, do not spray in all directions, and the meat was tender and juicy.
Chicken fillet in cheese
To cook fillet breaded cheese in multivarka, we will need:
Chicken fillet - 0,5 kg, hard cheese - 300 g, egg - 2 PC., vegetable oil, salt and spices.
How to cook a chicken fillet in cheese batter in multivarka?
1. Chicken fillet wash, dry and cut into chunks, to discourage thickness 0,5 cm. Season with salt and rub with spices.
2. multivarku set in the program "Roasting / Baking", pour oil.
3. Egg whisk in a bowl, in a separate plate to grate cheese on a medium grater.
4. Fillet lowered into the egg, then sprinkle with cheese, lightly pressing down it to the surface and put in a bowl for frying Multivarki.
5. Cook 7-10 minutes, turn over and continue frying on the other hand still 5-8 minutes. disable program.
6. Serve with any side dish, greenery, vegetables and sauce to taste.
How to cook a chicken fillet in cheese batter in multivarka recipe videos: