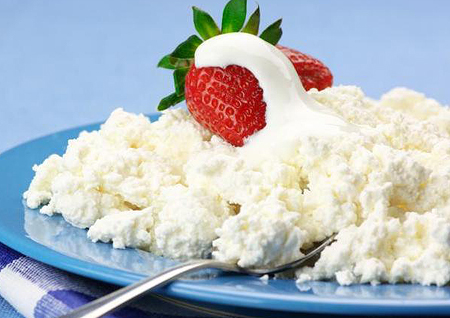 Cottage cheese - one of the most amazing and beneficial transformation of milk. From it you can cook a lot of various dishes: casseroles, cheesecakes, cheese, of pastries, it is used as a filling for cakes and pancakes, added to salads, burgers, used for sandwiches. And a plate of cheese, poured sour cream, so even with addition of fruit, syrup or jam - a great and very useful delicacy.
The cottage cheese is very rich in calcium, useful for bone formation. There are minerals and vitamins, help avoid anemia and a complete set of essential amino acids, methionine, mix, which reduce the risk of atherosclerosis.
Cottage cheese in multivarka
To prepare cheese in multivarka, we will need:
1,5 l kefir 3,2 %
How to cook cottage cheese in multivarka?
1. In a bowl pour kefir Multivarki, establish program "Multipovar" with temperature 70aboutWITH and prepare 30 minutes.
2. you can cook in "Yogurt" mode or "Multipovar" at 40aboutWITH, time set 2,5-3 o'clock.
after cooking, cottage cheese should be separated from the whey, paving the cheesecloth in a colander and pouring the contents of the bowl. Serum will gradually drain into the bowl, long does it take an hour or more, depending on the desired consistency of cottage cheese. Serum can be used for baking, it is very useful. Then the cheese is stored in the refrigerator.
3. Curd fed as a main dish with fruits, sour cream and sugar, or to use for cooking other dishes.
How to cook cottage cheese in multivarka recipe videos: