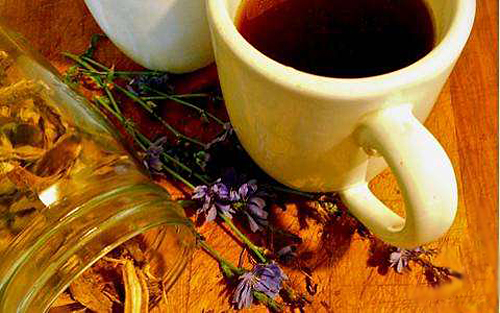 Everybody knows, that coffee is prepared from roasted and ground beans of the coffee tree. coffee cheer, It helps to quickly mobilize, but because some people can not drink it on the recommendations of doctors.
And what can be replaced by coffee?
1. If you like the taste of coffee, and drinking it is contraindicated, then replace it with help coffee drinks, which is also called a surrogate coffee. For their manufacturing chicory used, barley, acorns, dandelions, beets, to make such drinks is easy to.
This plant is very useful and is the undisputed leader among coffee substitutes. Manufacturers offer coffee drinks with its use, but you can cook a wonderful drink, and their own. Take chicory root, wash and purify, be dried, shred and fry on a greased with butter (slightly) pan. In the cup of boiling water take a couple of teaspoons resulting preform. Chicory perfectly detoxifies, It calms nerves, improves blood circulation, regulates intestinal microflora. Be wary of vascular diseases.
To prepare the drink should take a couple of medium-sized carrots, wash, Peel and grate, podsushity of juice. Paul barley wash cup, slightly dry, mince or grinder. Stir in carrots and fry in a pan. The mixture boil 15 minutes, insist 10 minutes. On 1 a glass of water take 1-2 ch.l. mixture.
Barley coffee is well supports the immune and nervous systems, liver.
To prepare the necessary green acorns, who wash and obsushivayut, remove the skin, cut, withstand 12 hours, Gulf of boiling water. Dried in an oven at 200 ° C, adding butter (1st.l. on 400 g feed), before turning to sugar (no. spoon on 3 raw glass). When the prepared drink, them a little stir fry until browning in a pan, cooled in a coffee grinder and melyat. On 1 Article. boiling water poured 1,5 ch.l. mixture, brew 3 minutes, filtered before use.
Similarly, you can make coffee beet, every rye, wheat, Kyzyl, hawthorn, dandelion. More ingredients can be mixed to obtain a tasty and healthy beverage, capable of replacing coffee and do not cause harm to health.
Council: The coffee substitute can add a little soluble or organic coffee, that will help them to bring to the taste of the coffee.
2. If the coffee was used for, to get a supply of vitality, energy, mobilization and concentration, something apart from him, you can resort to other, more useful products, without relying on the questionable action of caffeine.
It has a milder action, non-addictive, It does not affect the heart, not bolster the nervous system, but its use must also be in reasonable quantities.
Any cold drinks, even plain water, pushing the body for energy production, displayed courage.
Orange juice, drink of black currant, natural drinks with lemon juice, allow the body to wake up quickly and well toned.
Delicious and wonderful energy stimulators, good mood and creative activity.
Actively recharge the brain and the whole body, due to nutrient and minerals, informing tone and mental capacity.