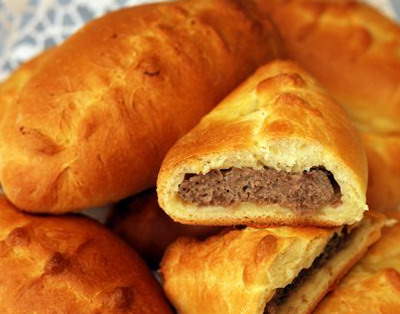 Cakes - a great addition to tea. Cook them is not so difficult, as it seems at first glance. dough recipe easy and quick for pies on kefir, and fry patties in multivarka - a pleasure, oil is not sprayed, cakes are soft.
Quick pies kefir in multivarka
To prepare cakes quick kefir in multivarka, we will need:
kefir - 200 ml, egg - 1 PC., 1 no. l. salt without slides, 1 Article. l. Sahara, 2 st.l. mayonnaise, about 3 Article. flour, 1 no. l. soda.
Stuffing - any. Meat stuffing: 0,5 kg minced, 1 bulb, salt, pepper, greenery, vegetable oil.
For the filling of cabbage - ½ small cabbage plug, 1 bulb, 1 carrot, 1-2 Article. l. tomato paste, vegetable oil, greenery, salt, pepper.
How to cook quick cakes with kefir in multivarka?
1. Prepare the stuffing for pies.
Chopped meat: fry onions, then add it to the finished meat or minced chicken, solim, plumelet, add herbs. If the stuffing is very thick, add a little water.
cabbage minced: carrots and onions and fry chop, add the tomato paste and chopped cabbage, solim, plumelet, stir and simmer until soft, at the end add greens. You can not use tomato paste, and braised cabbage add chopped boiled egg.
2. Prepare dough for pies: in yogurt add soda, mix, then add the egg, mayonnaise, salt, sugar and mix in a bowl until smooth.
3. Gradually add the flour, the dough is not too steep, vymeshivaya some time on the table, pour flour board, you can lubricate your hands with vegetable oil, so that the dough is not sticking.
4. Divide dough into portions, sprinkle with flour, roll the slices for pies, not too thick.
5. Multivarku set in "Hot" or "Baking" mode, on 30 minutes, Pour oil for frying, wait until it warms up.
6. On each circle impose minced, well close up the seam.
7. Fry patties in multivarka on 5-8 minutes on each side to Ruddy. In the beginning fry with the lid closed, and flipping the patty to the other side - with the open. If necessary, extend the program, fry until the whole batch of pies.
How to cook quick cakes with kefir in multivarka recipe videos: