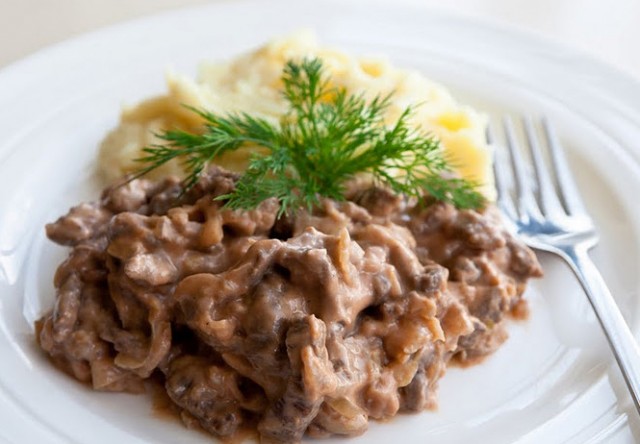 Beef Stroganoff was invented by a French chef Count Stroganov, who managed to combine this dish traditions of Russian and French cuisine. Meat, namely only beef, which is reminiscent of the prefix "Beth" (beef), fried with onions in the French style. And continue to stew in gravy, purely Russian traditions, and which serves.
Classic Beef Stroganoff in multivarka
To cook beef stroganoff in multivarka we need:
The flesh of beef (tenderloin, thin edge) – 300 g, bow - 1-2 PC., thick cream 150 g, cream - 150 g, tomato paste - 1 st.l. (or pureed fresh tomatoes - 0,5 c.), flour, salt, pepper, Ghee - 1 Article. l.
How to cook beef stroganoff in multivarka?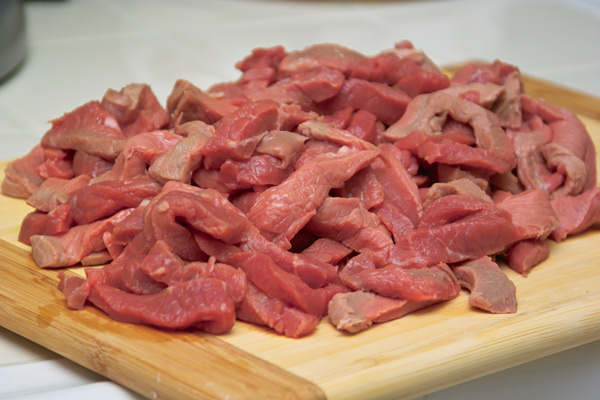 1. Cleans and my bow, cut it into half rings. meat wash, obsushivayut and cut crosswise into slices not thick fibers (0,5 cm), which are slightly repel, then into cubes (approximately 1h5 cm).
2. Turn multivarku in the "Frying / Baking" mode 15 minutes, ghee warm up and begin to fry the onion with the cover open, stirring from time to time.
3. Meat floured, mix, We shake off the excess flour. Meat should be laid on top of the onions and fry 8-10 minutes before the gloss, add black pepper.
4. laying cream, cream, tomato paste or pureed fresh tomatoes, pre-blanched, the skin removed, We mix and salt to taste. We put "Quenching" mode 30-40 minutes, if the meat is old, Increase the cooking time.
5. Serve stroganoff sauce with potatoes, pasta or rice, buckwheat garnish with greens.
Cooking instructions:
Potato garnish can be prepared simultaneously with the dish during "Quenching" and using the container-steamer.
2-3 potatoes clean, wash and cut into small cubes, laid in the container and set top main dish, close the lid. If desired,, After cooking mash in a blender puree, solim, add the hot cream.
How to cook beef stroganoff with mushrooms in multivarka recipe videos:
)