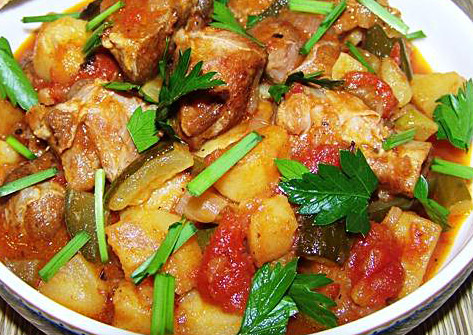 This dish Tatar cuisine prepared from the most ordinary products, it is not difficult, using his Multivarki prepare even an inexperienced cook. If you do ase tartare on our recipe, make sure, what flavor he simply excellent!
Azu Tartar in multivarka
To prepare ase tartare in multivarka we need:
Lamb or beef (meat) – 600 g, carrot - 1-2 PC., bow - 1-2 PC., fresh tomatoes - 2 PC., pickles - 2 PC., potatoes - 3 PC., tomato paste - 1 st.l., mutton fat or melted butter - 100 g, garlic, salt, pepper, bay leaves - to taste, greenery.
How to cook ase tartare in multivarka?
1. Wash meat and cut, salt, Spice up. Multivarku install mode "Baking" and melt in a bowl of mutton fat, or heat the vegetable oil, put the prepared meat and fry until crisp 15 minutes.
2. Bow, carrot, potatoes, my tomatoes, purify and cut.
3. To the meat add the onions and carrots, We continue to fry for another 10 minutes.
4. Add to the bowl of tomatoes and tomato paste, fry more 5-8 minutes, stir.
5. laying potatoes, pickles and spices, topped up with a small amount of hot water or broth (typically up to half the height of the fried ingredients), add some salt.
6. install "Quenching" mode 1-1,5 o'clock.
7. Serve with fresh herbs.
How to cook ase tartare in multivarka recipe videos: