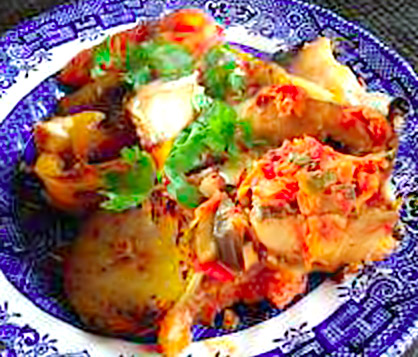 Multivarka not only facilitates cooking, but also allows you to vary the power, helping to show culinary fantasies. Recipe ase with fish - is one of these variations on the theme of fish. It turns out tasty, quickly and easily.
Azu fish in multivarka
To prepare the ase of fish in multivarka, we will need:
Fish fillet - 0,5 kg, potatoes 3-4 PC., vegetable oil, greenery, salted cucumbers - 3-4 PC., carrot - 1 PC., bow -1-2 PC., garlic, a tomato - 2 PC., or tomato paste - 1-2 st.l., salt, spice, greenery
How to cook fish in ase multivarka?
1. prepare fish, defrost fillet, Rinse, dry, cut into pieces. Mix the spices to the fish and salt, Sprinkle the fish on all sides.
2. Potatoes, carrots and onions to clean, wash and cut into medium-sized, Carrots can be rubbed on the grater.
3. Wash tomatoes and cut into slices or wedges. Pickles cut into strips or cubes, green wash and finely chop.
4. multivarku set in "Baking / Roasting" mode, pouring on the bottom of the bowl and warm oil, omit the onion and carrot and lightly fry. disable mode. If instead of the tomatoes used tomato paste, you can also add it to zazharku.
5. In a bowl put potatoes Multivarki, uniformly distributed over the bowl, his salt and pepper. Then a layer of tomato, fish, pickles layer.
6. Fill hot water or fish broth, that the products were covered by half, and establish a "Quenching" mode 45-60 minutes. The time depends on the power Multivarki. for 10 minutes before the end of the program mix gently, Try to salt and if necessary dosolit, add the garlic and herbs. If the fluid has turned too much, disconnect "Baking" "Putting out" mode and put on mode 20-30 minutes.